Taking Seattle by Storm
Searching for an action-packed ball game?  Locals and tourists need look no further than the base of the Space Needle at Key Arena (known to Seattleites as "the Key"), where they'll find the Sonics' superstar sister, the Seattle Storm. Sometimes overshadowed by the large sports names that claim Seattle as their home, the Seattle Storm is a professional basketball team that plays in the Western Conference of the WNBA. These amazingly talented women are known for their crazy skills and strong coaching staff – Seattle Storm is a nationally venerated club with a huge and passionate following!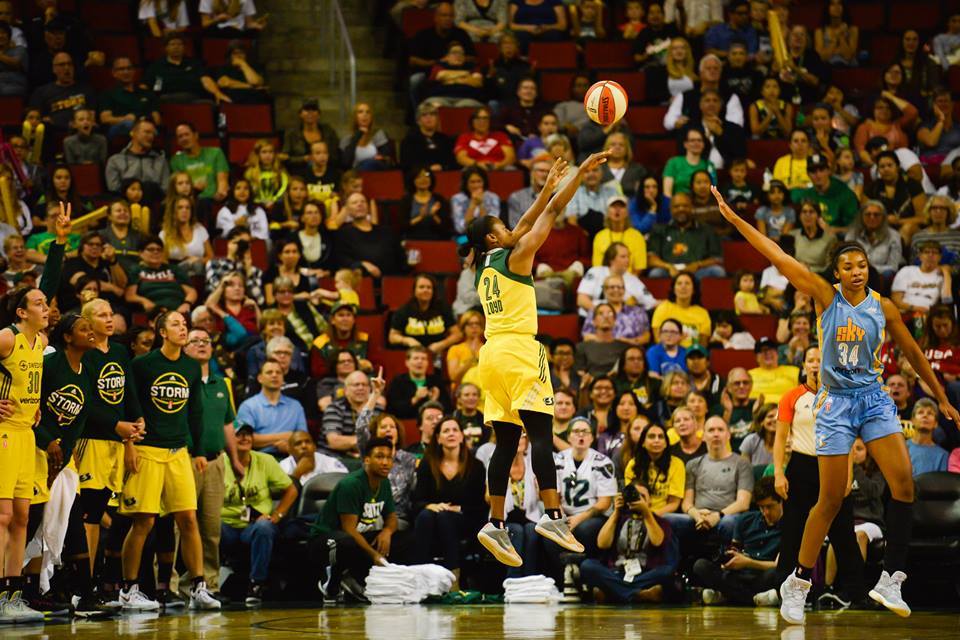 Storm games are known for their family-friendly atmosphere, created by incorporating lively interactive activities that turn everyone into a WNBA fan. With their all-child dance squads, time-out conga lines and fun weather-related icons, the Seattle Storm captivates and energizes the crowd.  The excitement builds to the Storm soundtrack, ACDCs "Thunderstruck," and each game promises an unforgettable and unique experience for all ages.
Want to learn more?
Sports Fans Agree:
"The WNBA is more exciting than the NBA to me. Not as many hotshots, publicity stunts, less showmanship and more pure talent and passion. I became a fan in 2006 and was hooked from the first game. The crowd has a big variety.... It's fun for everybody!" – Kathy L., Yelp
"I always recommend Seattle Storm games when my friends or family are in town.  The tickets are very reasonably priced ($20 can get you 5th row seats!), the crowd at the Key Arena gets loud and pumped, and the team puts on a good show night in and night out." – Kristen H., Yelp
"If you love sports, and you live in, or near, Seattle.... don't walk.... RUN to the nearest computer, and buy yourself a ticket to a Storm game.  You will not be disappointed." – Kris P., Yelp