Not your grandma's library.
At a time when libraries are fading out of the public eye due to the digitalization of traditional reading materials, the Seattle Central Library remains a civic focus that keeps the power of knowledge and curiosity alive. Combining post-modern architecture and 11 stories of physical reading material, the flagship library of the Seattle Public Library System stands boldly on 4th Street in the commotion of Downtown.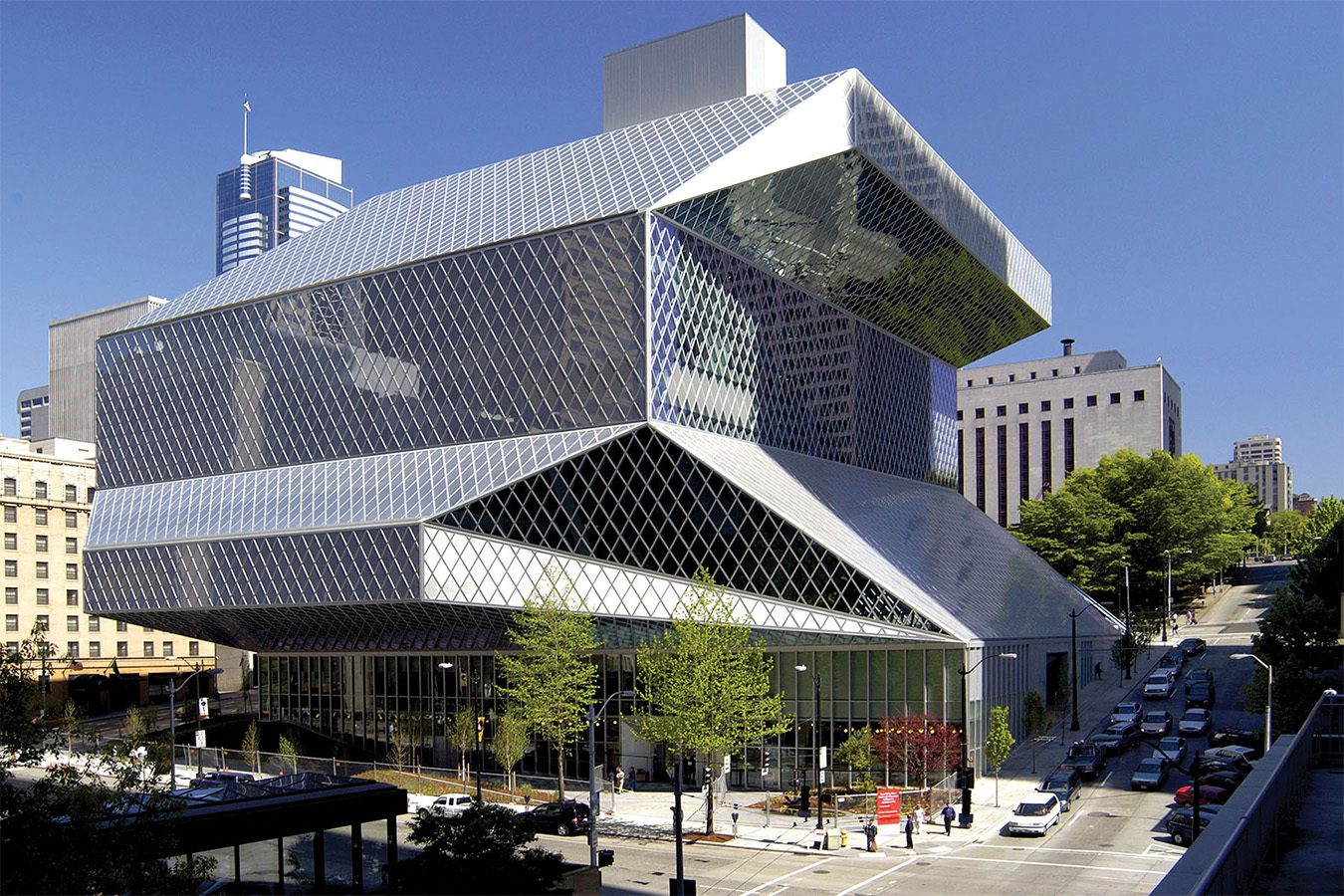 Demanding the attention of every bystander, the eclectic library's architecture features sharp lines and walls completely made of glass. In an effort to combat the notion that all libraries are stale, the OMA (Office for Metropolitan Activity) and LMN Architects have worked hard to redefine the ways in which we use a library.  The amazing architecture includes a continuous spiral staircase that climbs from floors 6-9, in an uninterrupted flow showcasing the 1.5 million books(organized by the traditional Dewey Decimal System) that line the library shelves. Each remaining floor ensures the classic Seattle blend of expertise and sundry talent, appealing to both the well-versed and rookie student.
Insider Tips:
Seattle Central Library boasts over 400 FREE computers, and 1 million books, DVDs, and music for borrowing.
Designed for work and play, there are floors designated for both peaceful meditation and loud integration.
The top-floor reading room is made completely out of glass without a single dividing wall or piece of artwork to block one's view from one side to the next, making the room light, airy and a wonderful place to daydream.
The 5th floor, Charles Simonyi Mixing Chamber, redefines the "reference center", where visitors can personally interact with specialists and a well-oiled community of librarians who know every book like the back of their hand.
Bring the kids! Follow along with the SLC Calendar of Events here and invite your children to interact with others within their own age groups, educational programs and family events that bring the whole crew together.
Vets and Rookies Say…
"The beginning of my love affair with libraries…. Fortunately, my mom allows me to use her card to check out materials!   Public libraries of the SPL's depth and breadth do not exist in many countries and are one institution I do not mind paying taxes for." –L.C., Yelp Review

"The Seattle Public Library is an absolute gem. I can't say I've had the pleasure of coming here in search of new books to read, but solely to marvel at the architecture…you're doing yourself a disservice if you don't make the journey to the very top of the library. I am entirely jealous and envious of those that get to spend a cold, rainy Sunday in this behemoth of a library." –Claire S., Yelp Review
"Free museum passes? You can "check out" passes online with your library card = free admission to dozens of nonprofits in the area including the Woodland Park Zoo, Seattle Aquarium, and Seattle Art Museum!" –Tamiko T., Yelp Review